About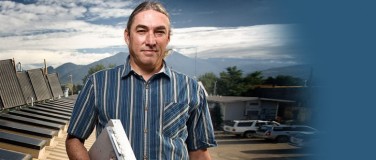 With three decades of solar energy experience, Valverde Energy is a national leader in setting standards and designs for the solar industry. Our solar energy systems endure the test of time providing excellent performance with low cost of ownership in the northern New Mexico region, including Santa Fe, Taos, Los Alamos Angel Fire and Chimayo, New Mexico.
Services
Valverde Energy specializes in solar energy. To understand solar panels and solar energy applications, a keen understanding of conventional energy use and systems is required, both mechanical and electrical. This is why in 1999 Valverde Energy was started with State of New Mexico licenses covering residential and commercial Electrical (EE-98), Mechanical (MM-98) and General Contracting (GB-98). Larry Mapes, the licensee holder also carries other certifications including NABCEP Thermal, Propane and other Journeyman cards.
Larry Mapes and his Staff is skilled in the conventional plumbing and heating repair as well as specialists in radiant heating as this is often the best fit for solar thermal heating.
Our Services list include installation and repair of:
Solar Heating
Solar Electric
Hydronic Heating Systems
Plumbing
Electrical
Solar Heat Basics
Solar hot water systems use basic principles and components to capture incoming solar radiation and heat water for domestic and other uses. Over the years, a variety of system designs have been developed and tested to meet specific consumer needs and environmental conditions. Sometimes, particularly for a new solar customer, the vocabulary and options can seem a bit overwhelming.