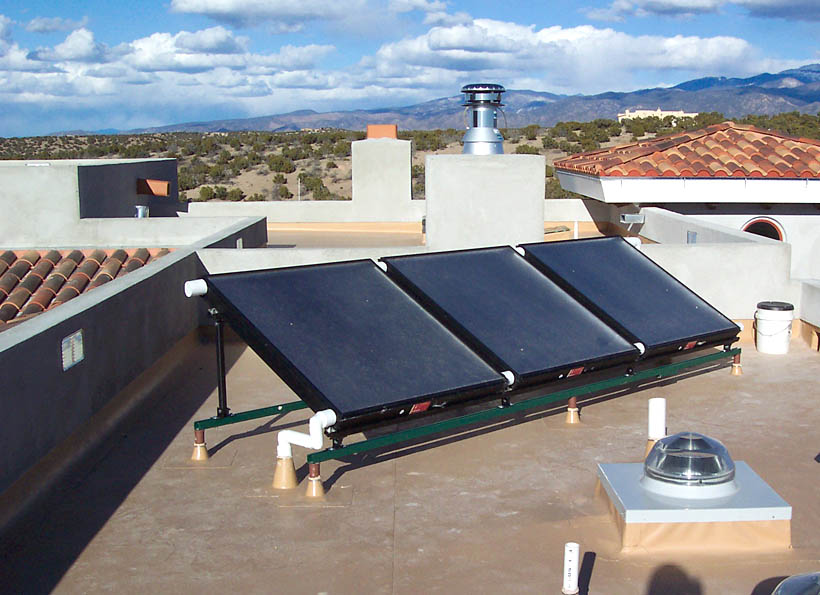 The solar hot water system pictured above is installed on a home which appeared in the  Parade of Homes Tour in Santa Fe, New Mexico. The very strict covenants in the neighborhood required a low profile arrangement that was not visible to any other neighbors. The roofing material is an EPDM rubber and the mounting hardware was installed before the roof was in place, which gave us the opportunity to make a seal that keeps the roof warranty. We usually, if possible, work with a roofer who has offered a warranty to assure that the client's roof warranty is not effected by our installation, even in retrofit installations.
Also, the collectors are mounted on steel (not wood!). This is because steel in New Mexico lasts a very long time. (Conversely,  we would not use steel where humidity is high, like Florida.) All system parts are matched for lifecycle, from collectors, tanks, mounts, and piping. This is part of our formula to reduce life cycle costs. Proper professional mounting allows solar collectors to last through their full life span ( 20-50 years), and make normal roofing repairs/replacement easy.
The tank used in this solar thermal installation is an 80 gallon stainless steel tank with a double wall heat exchanger. We choose this tank for two reasons. First, the tank affords the protection of a double wall heat exchanger, which means that if the heat exchanger fails, we do not get Heat Transfer Medium (HTM) in the potable water system even though we used a low toxic solution (propylene glycol base). Also this means that if more water enters the HTM loop from the potable water side of the heat exchanger due to failure, we do no damage to the collectors in freezing conditions. This is minimum code in most places even though we see many systems without this feature.
The other reason we use this tank is because it is made of high quality stainless steel and carries a 10 year warranty. There is also no need for a "sacrificial anode rod" to help reduce corrosion on the tank. On regular steel glass-lined tanks this rod needs to be replaced periodically depending on water conditions.  Owning a solar system is really about cost of ownership. Stainless steel tanks cost quite a bit more, but the life is well beyond the 10 year warranty.
This system pictured supplies above 80% of hot water needs for this particular household of two and was installed during construction, so no before and after data is available.
The maintenance on this solar system is once every five years–check the antifreeze to make sure it is in good shape. We have similar systems that have not been serviced other than a check that have run with no troubles for over 15 years. Life expectancy of a system like this for the major components (collectors, tank, internal tank heat exchanger) is 20-40 years.
All of our solar heat exchanges are oversized compared to most standards. We do this for greater system efficiency and lower operating costs. This is critical in the Rocky Mountain regions of northern New Mexico where water is often hard. Our solar systems are designed to work in the harshest water conditions without a water softener except in extreme cases. If a water softener is required, your cost of ownership rises. This misses the objective of owning a solar system.
The Santa Fe solar hot water system pictured has been in service approximately 4 years at the time of this writing.